Visualizing Audio
My first visualizations were of individual audio files. I'm fascinated with the audio waveforms, and how different types of sounds have different shapes. Incorporating these in the final project was on my mind from the beginning.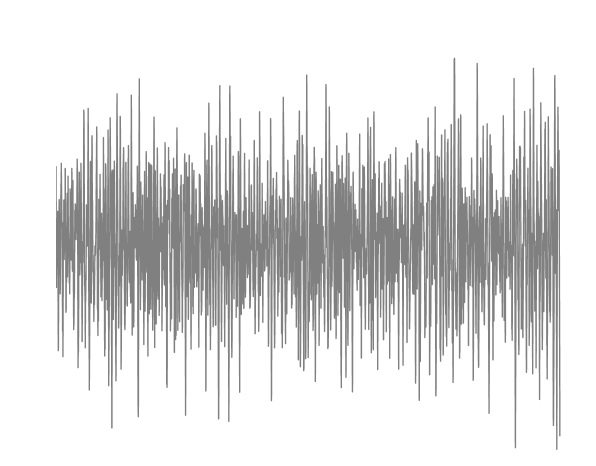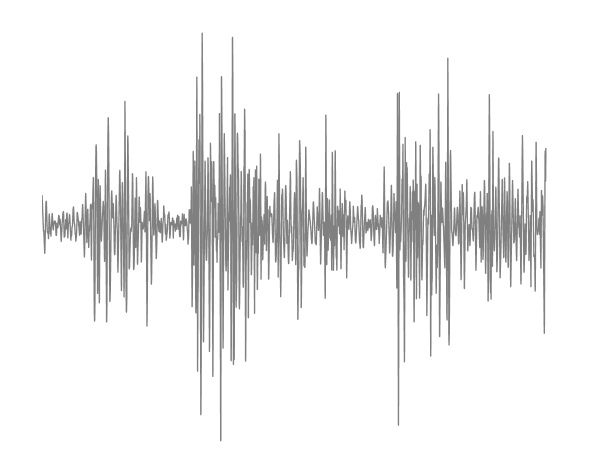 The early days of the fellowship were filled with brainstorming and sketching. Thinking of ways to incorporate the waveforms, one of my early sketches reminds me of an electrical circuit.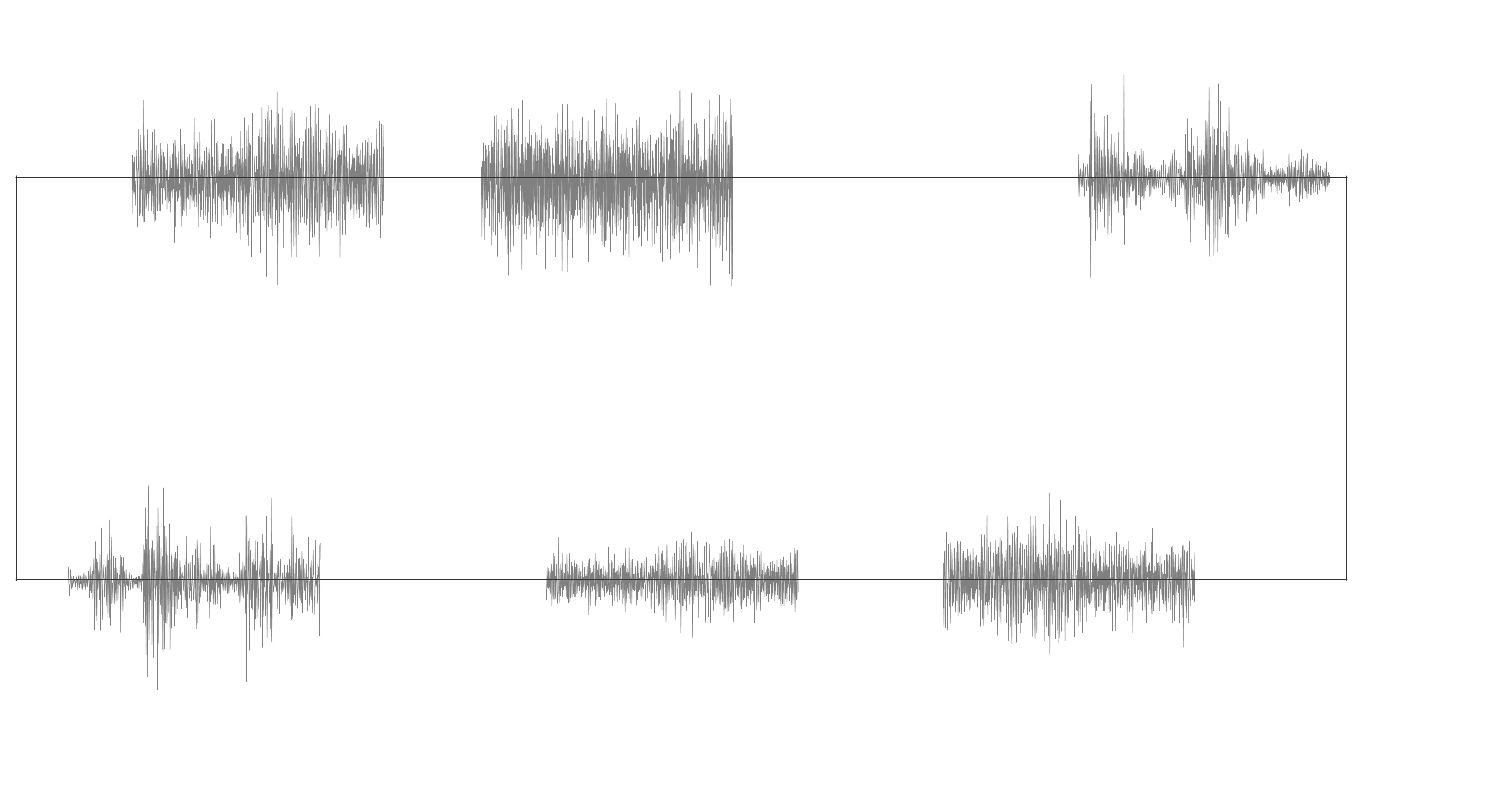 I also experimented a bit with processing.js and played with the idea of audio bubbles bouncing around. This was a lot of fun, and reminded of my days coding particle systems in AS3.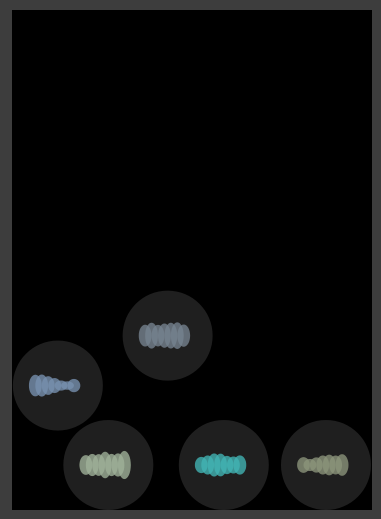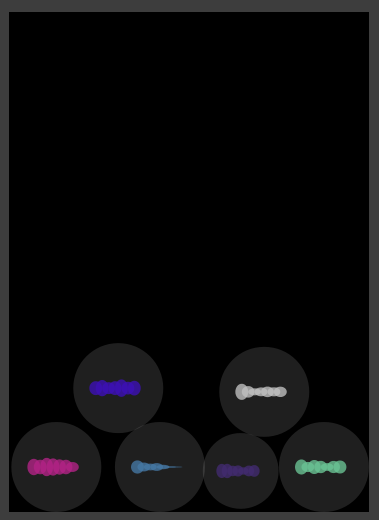 Identifying different types of sounds could have led to another level of detail in the visualization. Listening and classifying each recording took a long time, and only a couple walks were analyzed this way. Doing the classification automatically would make this much faster, so developing a system to classify short sounds is on my list of things to work on next.
I did get a good start though, and while learning about audio classification and signal processing, I learned a bit about audio fingerprinting and generating spectrographs. These show much more detail than waveforms, and can be used to classify audio recordings. They can also be very beautiful.

Once I had some recorded walks to work with, I started experimenting with mapping them. At first, it was just placing markers for samples in relative positions. The visualization took shape slowly, first for one walk, and then for several.

At first, I was thinking that each recording would be classified, and the dots could be colored according to what type of sound it was. But after experimenting with emphasizing individual walks, rather than aggregating the samples, I decided to go with using color to signify which samples were from the same walk.

This led to experimenting with showing "menu" of walks, instead of showing all the data at once. Offsetting the position of each walk looked interesting, but wasn't very useful for looking at one walk at a time. Adding relative noise levels for each sample, created some interesting patterns.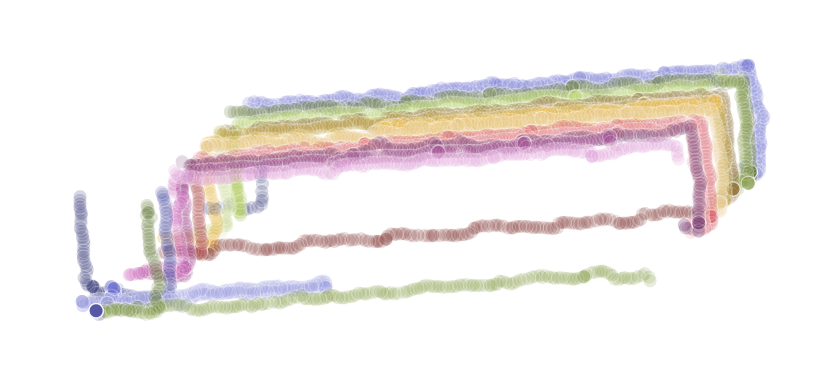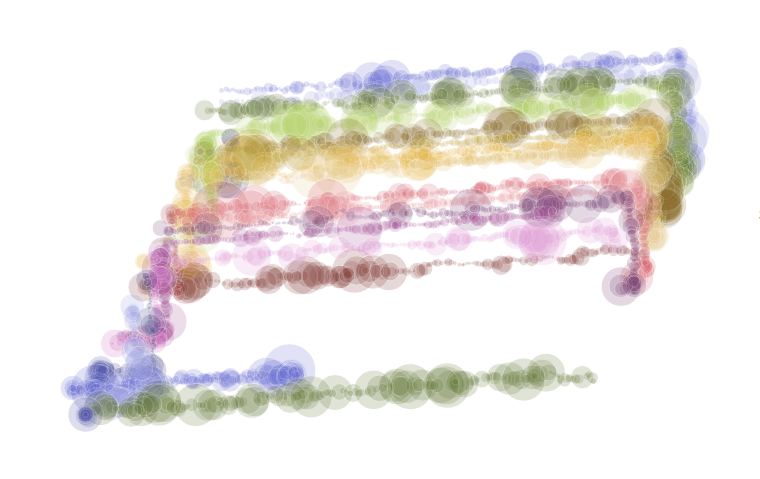 Decided to make a "menu" of walks, that could be examined in detail. Make them playable...like a song. Drawing a few streets and label them, to provide context.
Still wanted to show the waveforms of each audio sample, so included these in the details view for each sample. Details are visible when mousing over a mapped do, and when the walk's recordings are played back.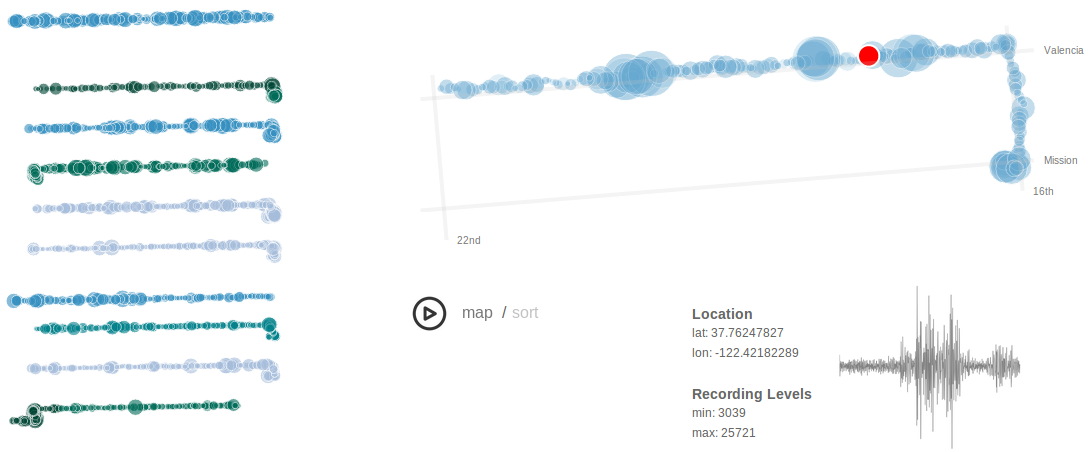 Near the end, when everything was working and looked pretty good, a great comment was made on the documentation. It inspired me to rework the visualization, so that the menu was no longer off to the side. I'd been struggling with the "menu" being too dominant, so the menu now became the visualization. By this time, my D3 skills had improved a bit, and I could implement an idea more quickly than when I started on the project.
The final version: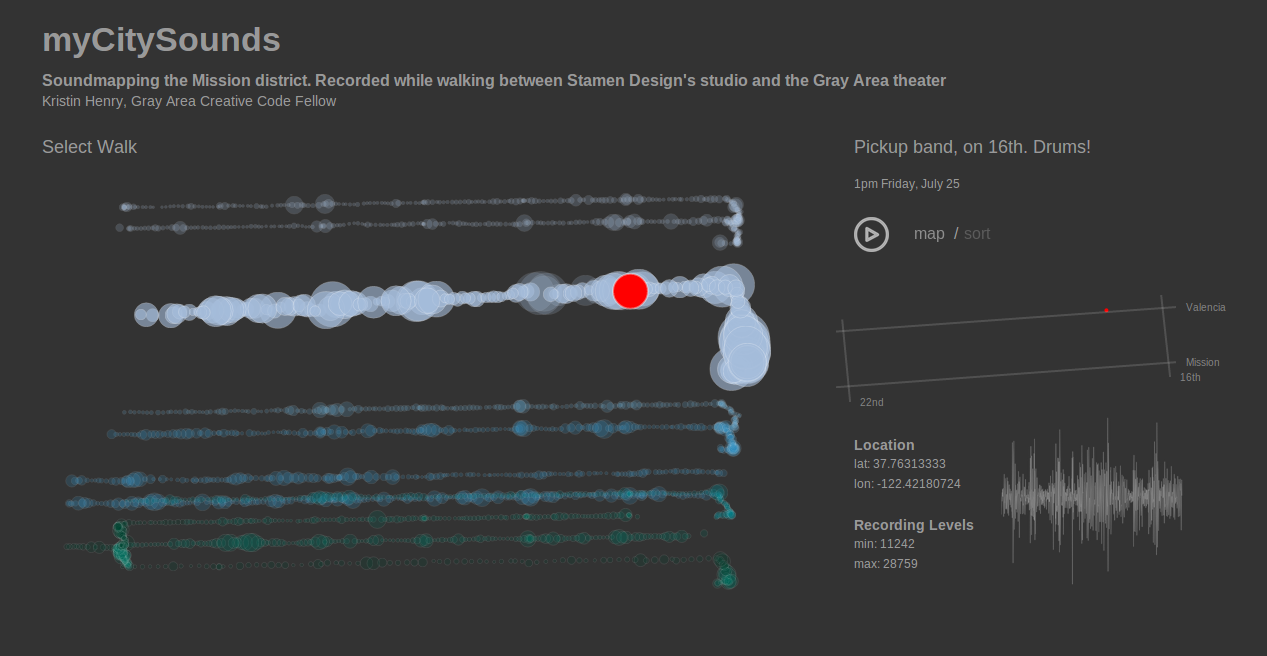 One unexpected observation, when I started visualizing recordings on the map: I realized I was walking on Valencia street much more than Mission. Why? Well, the block of Mission between 16th and 17th streets is ...well, there's a lot of crime on that block.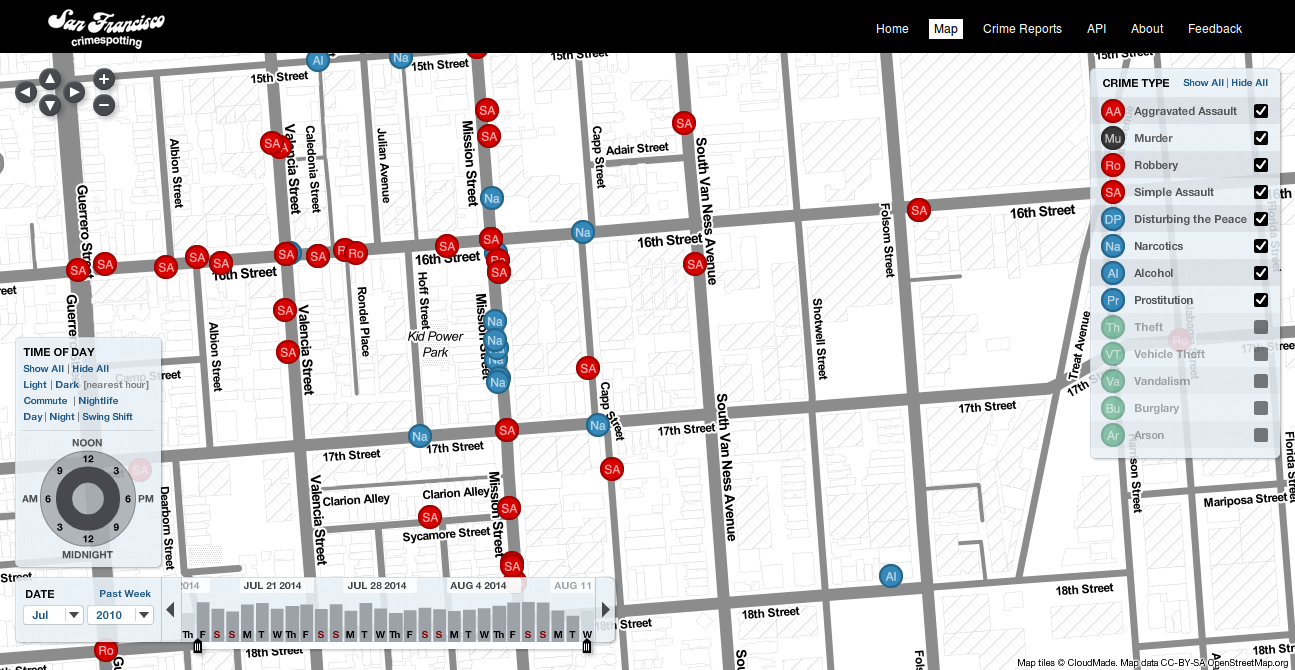 Once I noticed I'd been leaving out a big area in my project, I changed my pattern and walked to Gray Area along Mission street. If I stayed on the Eastern side of the street, especially between 16th and 17th streets, it seemed safer.
Working with the team at Stamen was fantastic. Coming from a science and engineering background, I'd never had access to so much design talent before. The feedback I received helped shape the visualizations. It helped me step away from the details of the data and see the big picture, to get from "engineer art" to a much better design.